In de bibliotheek staan zo'n 150 woordenboeken over textiel en mode. Onmisbare boeken om vragen van vertalers en van historische onderzoekers op te lossen. Want hoe goed je ook kan zoeken op internet, sommige informatie is alleen te vinden in een ouderwets boek.
Mijn favoriete woordenboek is het Woordenboek voor den manufacturier : stofnamen en vakuitdrukkingen door J.T. Bonthond uit 1947. Ik gebruik het vaak om vragen van vertalers op te lossen. Want wat is bombazijn, boyeux of Brabants bont eigenlijk?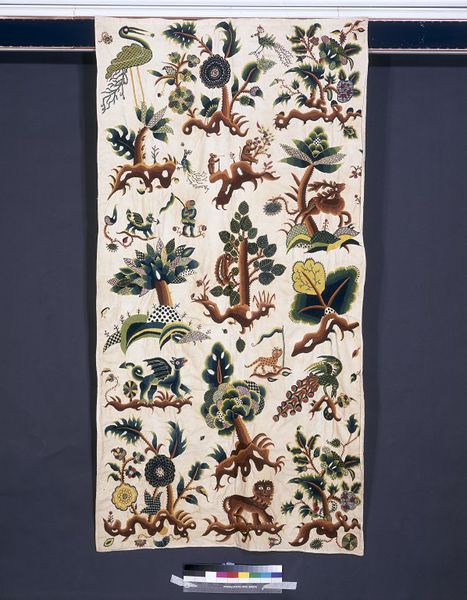 Laatst ontving ik een erg leuke vertaalvraag. Wat is crewelwork in het Nederlands? Charlotte Brontë gebruikt dit woord bij de beschrijving van een hemelbed in Jane Eyre : een autobiografie. En zo zou dat bed er uit kunnen hebben gezien, met dank aan de conservator van het Victoria & Albert Museum (want hier kon ik niet voldoende informatie vinden):
Hier volgt een lijst woordenboeken, ook een aantal op Internet:
Meertalig
TEKOT 7 x 7 dictionary / [Paul de Rooij and staff members of VOC/BETEX]. – Amsterdam : VOC/BETEX, 1999.
Engels, Deens, Nederlands, Frans, Duits, Italiaans, Spaans.
ITS Textile dictionary = Textil-Fachwörterbuch = Dictionnaire textile = Dizionario tessile = Diccionario textil = Dicionário Têxtil : English, Deutsch, Francais, Italiano, Español, Português / International Textile Service (Schlieren/Zürich). – Schlieren/Zürich : International Textile Service, 1989
Engels
Textile terms and definitions / comp. by The Institue textile Terms and Definitions Committe ; ed. by M.J. Denton DSc CText FTI, P.N. Daniels BA MIInfSc. – Manchester : Textile Institute, 2002.
Weven
Geïllustreerde internationale weefdictionaire : 623 begrippen verklaard en vertaald / Jo Smit. – Haarlem : Rostrum, 1981.
Deens, Duits, Engels, Frans, Italiaans, Nederlands, Noors, Zweeds
Textiellexicon : verklarend weeftechnisch woordenboek / eindred.: Johanna M. Diehl, A.J. de Graaf, Daniël de Jonghe. – Amsterdam : Textielcommissie Musea, 1991.
Duits, Engels, Frans, Italiaans, Spaans, Zweeds
Breien
Technische woorden en uitdrukkingen betreffende breierij en tricotage. – In: De textielindustrie ; Jrg. 21 nr. 8 (1940)
Dictionary of knitting technology / Ines Wünsch. – Frankfurt am Main : Deutscher Fachverlag, 2009.
Stofnamen
Les étoffes : dictionnaire historique / Elisabeth Hardouin-Fugier, Bernard Berthod, Martine Chavent-Fusaro. – Paris : Les Éditions de l'Amateur, 1994.
Fairchild's dictionary of textiles / ed. Phyllis G. Tortora. – New York : Fairchild Publications, 2000.
Classic and modern fabrics : the complete illustrated sourcebook / Janet Wilson. – Londen : Thames and Hudson, 2010.
Internet
http://en.wikipedia.org/wiki/Glossary_of_textile_manufacturing
http://belovedlinens.net/fabdico/textile-dictionary-a.html
http://www.centexbel.be/lexicon
Aanvulling 3 september 2015
Het Textile Institute stelt zijn Textile Terms and Definitions voortaan via Internet beschikbaar. Er is een abonnement nodig om toegang tot de woordenlijst te krijgen.
http://www.ttandd.org/
Jantiene van Elk | Bibliotheek