In the library we keep about 150 dictionaries on textile and fashion. Undispensable books to answer questions by translaters and researchers. Not all information on (historical) textiles is available on the Internet, sometimes you do need an old fashioned book.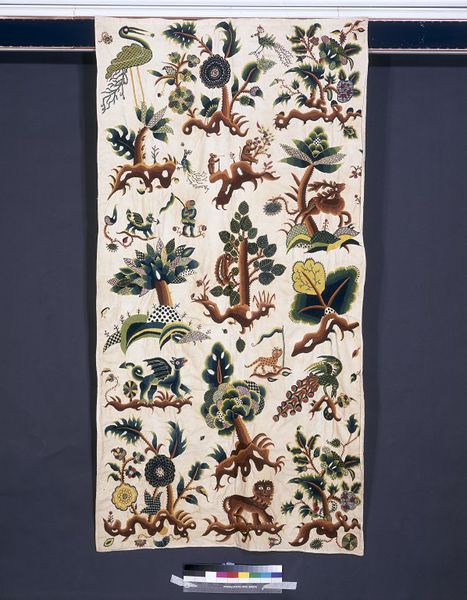 Some time ago I got a nice question by a translator, what is crewelwork in Dutch? Charlotte Brontë uses this word to describe bed hangings on a canopy bed in Jane Eyre. This is what the bed might have looked like (thanks to a curator at the Victoria & Albert Museum, because I couldn't find enough information):
Here is a list of dictionaries and glossaries, also some on the Internet:
Multi lingual
TEKOT 7 x 7 dictionary / [Paul de Rooij and staff members of VOC/BETEX]. – Amsterdam : VOC/BETEX, 1999.
Engels, Deens, Nederlands, Frans, Duits, Italiaans, Spaans.
ITS Textile dictionary = Textil-Fachwörterbuch = Dictionnaire textile = Dizionario tessile = Diccionario textil = Dicionário Têxtil : English, Deutsch, Francais, Italiano, Español, Português / International Textile Service (Schlieren/Zürich). – Schlieren/Zürich : International Textile Service, 1989
English
Textile terms and definitions / comp. by The Institue textile Terms and Definitions Committe ; ed. by M.J. Denton DSc CText FTI, P.N. Daniels BA MIInfSc. – Manchester : Textile Institute, 2002.
Weaving
Geïllustreerde internationale weefdictionaire : 623 begrippen verklaard en vertaald / Jo Smit. – Haarlem : Rostrum, 1981.
Deens, Duits, Engels, Frans, Italiaans, Nederlands, Noors, Zweeds
Textiellexicon : verklarend weeftechnisch woordenboek / eindred.: Johanna M. Diehl, A.J. de Graaf, Daniël de Jonghe. – Amsterdam : Textielcommissie Musea, 1991.
Duits, Engels, Frans, Italiaans, Spaans, Zweeds
Knitting
Technische woorden en uitdrukkingen betreffende breierij en tricotage. – In: De textielindustrie ; Jrg. 21 nr. 8 (1940)
Dictionary of knitting technology / Ines Wünsch. – Frankfurt am Main : Deutscher Fachverlag, 2009.
Textile terms
Les étoffes : dictionnaire historique / Elisabeth Hardouin-Fugier, Bernard Berthod, Martine Chavent-Fusaro. – Paris : Les Éditions de l'Amateur, 1994.
Fairchild's dictionary of textiles / ed. Phyllis G. Tortora. – New York : Fairchild Publications, 2000.
Classic and modern fabrics : the complete illustrated sourcebook / Janet Wilson. – Londen : Thames and Hudson, 2010.
Internet
http://en.wikipedia.org/wiki/Glossary_of_textile_manufacturing
http://belovedlinens.net/fabdico/textile-dictionary-a.html
http://www.centexbel.be/lexicon
Since September 2015, the Textile Institute offers online acces to it's Textile Terms and Definitions. To get acces you need a subscription.
Jantiene van Elk | Library